Improve Your Spirit with
Water & Salt
If you are down, you can improve your spirit with a pinch of salt and a glass of water. It is called the water cures protocol.
University of Connecticut research
found that mild dehydration can alter our mood. The fix, properly hydrating our bodies.
The studies left out one important thing for optimal hydration....unprocessed salt dissolved on the tongue.
Below the info-graphic is the details of how and why it works.
Improve Your Spirit: The Info-Graphic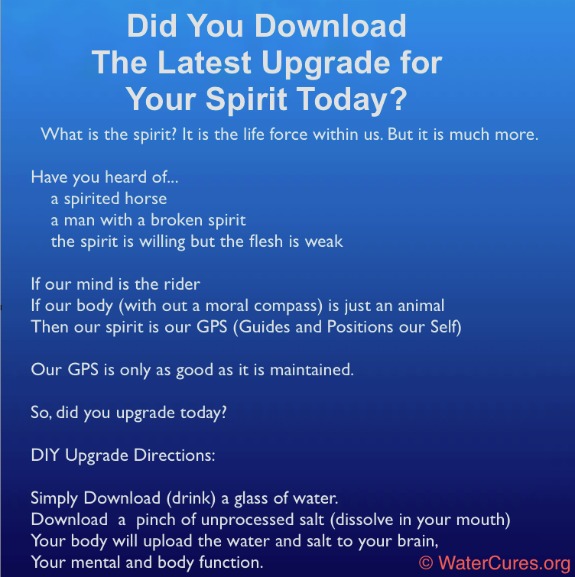 Your Spirit: The Explanation
While there is much debate on what the spirit is, from a scientific standpoints, the spirit is the life force within us. It is the force that allows all of our cells to work together in a symphonic harmony we call life.

While you may have heard of a spirited horse, a man with a broken spirit or even the Bible verse that says spirit is willing but the flesh is weak. There is much more to explain our choice of definition.

When the human body dies, the heart still has life in it for about 4 hours. Within those four hours, the heart can be transplanted and will continue to live in another body.

The same is true of the liver, only it maintains life for about 7 hours. Our cornea can live on for 1 week (unless exported to other countries where they consider 2 weeks as acceptable).

As a holistic nurse, the treatment involves the spirit, mind and body and heart.

If our mind is the rider, and the body (with out a moral compass) is just an animal, then our spirit is our GPS. It guides and positions our self, the way we manage our thoughts, emotions and energy through the day.

Our spirit is only as good as it is maintained. By hydrating our body, we are able to improve the overall status of our life force. It is the equivalent of upgrading our software.

So, did you upgrade today?
The DIY Download Directions:
Simply Download (drink) a glass of water.

How much? Drink your body weight x 0.08.

Download a pinch of unprocessed salt (dissolve in your mouth), about 1/8 tsp of salt for every 16 ounces of water you drink.

Your body will upload the water and salt to your brain. From there, it will improve your spirit.

Using this upgrade, people have found they can loose weight, improve mental agility, improve thinking and in one of our testimonials, it was reported that it helped reduced anger.
More on the Brain and Improving its Function