Blood Disorders
There are numerous blood disorders that can challenge our health and even our life. While modern medicine often can only treat the symptoms, there are natural ways to correct problems related to our blood. If we give our body what it needs, it can often heal itself.
We live day by day unaware of our bodies constantly doing just that. In the case of our blood, it is producing new cells as old blood is recycled. Unless we get a cut and bleed, an injury that leaves us bruised or a health issue involving our blood like shortness of breath, we tend to take it for granted.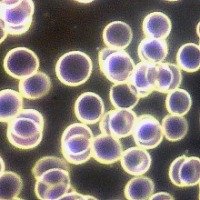 Live Blood Viewed in Dark Screen Microscopy
As you continue on here, you will discover the various ways the Water Cures plays a role in that red fluid that flow throughout our body and health issues that are associated with it.
Anemia Facts:
The Every-bodies Blood Disorders
It all starts with anemia. This is the most often underlying problem associated with many cardiovascular diseases. Go to Anemia Facts to discover more about the types, kinds and evidence based natural ways to improve your hemoglobin numbers. What we share is part of what is currently being done in the leading hospitals that give transfusions to less than 5% of patients. Why? Because bloodless medicine and surgery is better and is safer than transfusions. Click Here to learn more about the types of anemia.
Heart Attack / Brain Attack (Stroke)
Two of the most well known afflictions involving the ability to get oxygen transported by our hemoglobin are heart attacks and strokes.

They both involve a lack of oxygen getting to the cells. In the case of a heart attack, it could be due to a clot or blockage that prevents blood from getting oxygen to the constantly working heart muscle. In the case of the brain, a clot or a broken blood-vessel also results in a lack of oxygen and result in damage to the brain cells.
Heart / Vascular Health and Water Cures
While not directly about the blood, this is the system the blood works within. This system covered in depth. Things like blood pressure, cholesterol, and more are covered in Heart Vascular.
This is not so much a blood disorder as it is how our body manages the blood inside us. Tale a look at the causes and how the Water Cures can help. Also, you will find some outside the glass ways to correct this health problem.
Go to Blood in Stool
Blood in Urine No Pain, To My Doc Should Something I be Say'in?
Go to Blood In Urine
More On Blood Disorders Info to Come During December 2016
Blood Thinners: The Good, Bad, Ugly and Natural Blood Thinners, a Safer Way
Red Blood Cell Rouleau Formation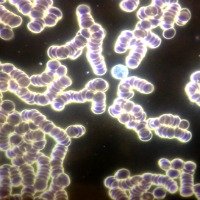 A dark screen microscopy view of live blood. Possibly due to abnormal proteins in blood (multiple myeloma or macroglobulinemia). It's an example of aggulation (blood cells stuck together).
Technically our blood has a very limited range of viscosity. To call the action blood thinning is incorrect. The better way to look at it is anti-coagulation or lessening the ability to clot so that it does not clot in the arteries as it is flowing around.
Blood Types: The Rare, Usual Different and Why You Need to Know, or Do You?
Blood Level Sugar: The Natural Solution Without Pills, Bills or Ills
Blood High Pressure: Lower it Fast, Naturally
Don't just take our word for it, see what others say about the Water Cures. While you might wonder how salt can lower blood pressure, remember, this involves unprocessed salt. It is not the same as blood pressure raising table salt. Find out today how you can...
Lower Your Blood Pressure with salt and water. Note: it is the oral version of a saline IV.
Blood In My Eyes: A Simple Solution
Blood Clot in Thigh
Low White Blood Cell Count: Need to Know, Need to Do
Blood Tests: A Secret Option
Blood Stain Removal: Yes, the Water Cures Protocol Does Windows and Stains Too
Blood Disorders: Water Cures Works
Blood transfusions are often one of the solution considered by the health care system to correct blood disorders. Yet the science does not show they work. No wonder, since 2000, according to a JAMA report, the health care system has been found to be the third leading cause of death in the US.
What if there was a better way to care for blood disorders? A safer way?
The Blood Transfusion You Avoid May Save Your Life
While they are marketed as saving lives, the science does not show this to be true. Actually the research shows the opposite...from any to the more blood you get the greater the risk of dying. Here's...
How to Avoid Blood Transfusions
Blood Borne Pathogen
Blood Parasites: Water and Salt are Only the Beginning of Treatment
The Blood Cholesterol Hoax
Frontiers Of Knowledge on Blood Disorders
While the health care system on the whole has not bought into the alternative and natural ways to treat various diseases and conditions, things are changing. There is considerable research behind what we have shared here. Yet this is not everything. There is so much more.

In addition to the benefits of water and salt, when we increase our bodies glutathione, it is possible to help our bodies naturally increase blood counts. Additionally, the glutathione helps our body to correct problems and even bring to an end many unwanted health conditions.

You can learn more about glutathione and how it helps correct blood disorders at GlutathioneDiseaseCure.com