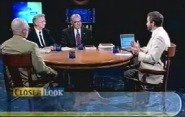 Water Cures Debate Dr. B speaks on salt and high blood pressure.
Letters From People Like You
Dear Water Cures
Wanted to update you on my friend ------ who had the high blood pressure.

 Her blood pressure was 178/104 while on blood pressure meds at the Drs. office.

Since drinking the water for about 3 weeks only and cutting her meds in half, her blood pressure averages 130/73! She can't believe it. 
Our Testimonial Guarantee
At Water Cures, we are not in it for the money. We are in it to help, to pay it forward.
Please Share Your Story. Unless you specifically say we can, we will not use your private contact information.
Beyond Water Cures Sometimes water cures will not work for various reasons. If water cures does not lower your blood pressure, then here is plan B. You will find 10 tasty ways to lower your blood pressure using the pharmacy in the fridge and the medicine cabinet in your cuppboard.
Foods That Lower Blood Pressure
What are you waiting for? Click Here, eat, drink and be healthy. Click and learn how others have lowered their blood pressure with foods.
Like What You're Learning? Please share your likes on Facebook
---
Click Here Find Out What The CDC and JAMA Say About Salt
---
Click Here End Your Headaches
---
Click Here to Discover How to Get To Sleep
---
---
Click Here Why You Need Salt to Live Healthy
---
---
Heal Your Headache It Worked For Me
Hi, my name is Sharon. The webmaster of this site is my nurse, my personal water coach and my husband.
As this site was first being built, I had a headache and as usual took an Ibuprofen. Impatient for it to start working, I decided to try the Water Cures. I took a pinch of salt and a glass of water. Then I took a second pinch of salt and another glass of water. My headache was gone in less than 5 minutes.
From my personal experience, it usually takes 30 to 45 minutes for Ibuprofen to work. Some have found it takes ibuprofen 24 minutes to start working.
My headache was gone in 5 minutes.
Its simple: give your body what it needs and your body will give you what you need, the ability to feel great.
Water Cures is the solution for elimination of my headache from now on.
Have you tried the Water Cures Yet? Then why not...
Share Your Story