At Water Cures, we are not in it for the money. We are in it to help, to pay it forward.
Please Share Your Story. Unless you specifically say we can, we will not use your private contact information.
Hydration Coach Class
Weekly Classes
Hydration Coaching Classes

Scheduler coming soon

Want The Latest Water Cures Page Posts?
Find them right here! We will start adding the new pages here so you can keep up to date. They will be up for at least a month.


---
Blood Pressure Medications
What Your Doctor's Not Telling You!
New November 28, 2015
---
High Blood Pressure Causes Relate to Sugar, Potassium and Magnesium
New November 21, 2015
---
Natural Joint Pain Relief with Salt, Water, Sugar and a new Mind Set
New November 20, 2015
---
101 Causes of Cancer from WHO
We started expanding on the causes...
The weirdest...chimney sweep cancer. You won't believe where it strikes.

New November 10, 2015
---
---
Marathon Man & Woman
Our theory on...
Healthy Hydration for Athletics & the reason for hydration guideline failures in the past.

New October 29, 2015
---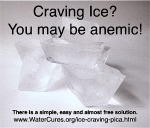 Craving Ice or Ice Drinks?" Click Here for a Simple Anemia Solution I used in the Hospital for almost 2 decades now.

New October 27, 2015
---
Want Water Cures Speakers

We speak to organizations small and large, private and corporate.

Our scientifically proven training works to improve performance and decrease lost days due to illness.

We are currently speaking to hospitals to train staff in ways to decrease the readmission rates in several disease processes that pose high risk of <30 day readmission.

We can cut the rates by up to 70%. Ask us how.

Contact Bob Butts or Nurse Jon for more information on hydrating to improve performance.

The Great Salt Debate
Here is the Science

We are not promoting increased salt intake. We are suggesting taking salt in amounts appropriate to your bodies needs, based on water needs. Our needs are not one size fits all.

Note: Do you have CHF or Kidney Disease? Then.....
THIS IS NOT FOR YOU.

There is more to Water Cures than just salt and water. Diet, 50 to 80% raw food is best and exercise play an important part. And we believe the science is important too. Below is some of the research we found as to why Water Cures is the solution for better health.

Does Salt Raise Blood Pressure?
Read This Study
And Decide for Yourself
---
Does Dietary Sodium Increase Heart Health Risks?
For Most of Us, No!
According to a JAMA study.
---
A Review of the above JAMA Article
Study: Salt May Not Be All Bad?
---
---
Water Cures is not for Everyone
Listen to your body. Do not use this if you are under a doctors care. Do not stop taking medications without consulting your doctor. If you are on medications, consult your doctor if you start the Water Cures Protocol as it may change your needs.
---
---
Turn C's an D's to B's and A's
Click Here to Discover How
---
The Water Cures 3 Minute Challenge
Click Here
---
The Water Cures: The Solution For Better Health Newsletter
Click Here
---
My Water Cures
Sign Up for your biweekly newsletter.
Click Here to Discover How to Get To Sleep
---
Click Here Discover The Science of How Much We Need to Drink and The 5 Rights of Proper Hydration
---
If you are looking for an affordable alternative natural health care for depression, consider the Water Cures protocol.


Click Here Discover how to end Depression
---
Like What You're Learning? Please share your likes on Facebook
---
Heal Your Headache It Worked For Me
Hi, my name is Sharon. The webmaster of this site is my nurse, my personal water coach and my husband.
As this site was first being built, I had a headache and as usual took an Ibuprofen. Impatient for it to start working, I decided to try the Water Cures. I took a pinch of salt and a glass of water. Then I took a second pinch of salt and another glass of water. My headache was gone in less than 5 minutes.
From my personal experience, it usually takes 30 to 45 minutes for Ibuprofen to work. Some have found it takes ibuprofen 24 minutes to start working.
Yet on the Water Cures protocol, my headache was gone in 5 minutes.
Its simple: give your body what it needs and your body will give you what you need, the ability to feel great.
Water Cures was the solution for the elimination of my headache. It is what I will use from now on.
Why not give it a try yourself.
Have you tried the Water Cures Yet? Then why not...
Share Your Story