Hydration Improves Vision
My Water Cures See Better Story
There is no question that hydration can improve vision. However, many of our clients and hydration coaches provide reports of improved vision from those using the Water Cures Protocol. Yet this is something that I had not experienced, that is, until February of 2015. You see, as we enhanced the Water Cures protocols, I tried each new change. With the last change, my sight improved and it did so significantly.
Hydration Improves Vision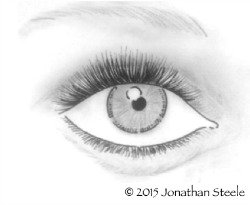 First, let me tell you about my journey. During my trek into holistic health, my vision progressively worsened. Even using tricks like looking through pinholes to see without glasses did not help. My vision was that bad.

Then on using the enhanced Water Cures Protocol, within a few days, my sight improved. It improved dramatically! There is no question that hydration alone can help vision. Yet this was not happening for my eye sight, until trying the enhanced protocol.

My clock across the room, a LED lit numeral clock was now readable. Yes it was blurry but it was readable with out squinting. This was an improvement beyond my previous best.

Also, from my living room, it was not possible to read the clock in the kitchen, 25 feet away. Once again, it is readable with my glasses.

The key to this improvement was not just the Water Cures Protocol. It also included using liquid chlorophyll mixed into the water. Additionally, every day eating at least 2 Brazil nuts provide 100 mcg of selenium each.

The final ingredient was raw honey. Consuming the honey separate did not provide any benefit that I noticed. The key to this working involved the enhanced Water Cures Protocol.

Here is the research on our eyes need for Copper.
Our Vision Improvement: Why We Can See Better
What Do We Think? Why does honey not work alone to improve my vision. This is the only sweeter I use. In combination there was an incredible effect. Why? When we consume honey as a food and with other foods, hydrochloric acid is released in the stomach.

When we consume water alone, there is not a release of hydrochloric acid in the stomach. What if the chlorophyll and the honey, in combination with the water, also do not get broken down the same as foods? If this is true, then the sugars go through and are processed differently by the body.

What Do We Know? A large number of people report improved vision when combining the water cures protocol and sugar use at the same time.

All I can say in conclusion, it is working for me.
More on Brain and Mental Health