More Health Benefits of Salt
Here are some more health benefits of salt.
We are constantly bombarded with the thought that too much salt is bad for you. You should reduce your salt intake. You should limit your salt intake. Yet, most of us are eager to fulfill our salt cravings and as such, have become salt-a-holics.
Could it be that salt is actually healthy for us? At WaterCures.org, we do not only believe this, we can prove it.
The most obvious reasoning it that the Water Cures protocol is nothing more than the oral version of a saline IV. However, we use far less salt than you would get in a hospital. The medical literature also says that there are many more health benefits of salt than there are risks.

Check out the American Journal of Medicine Abstract
More Health Benefits of Salt
What almost no literature looks at is the difference between the different kinds of salt. There is table salt which is refined and has anti-caking agents added and unprocessed salt. Yes, some doctors will say there is no difference. This begs the question....How can unprocessed salt with upwards of 83 minerals be the same as table salt with nothing but sodium and chloride be the same? It is like saying that the minerals in the salt have no benefit.

So, when you consider the benefits the trace minerals add to our salt intake, the benefits considered in the above article are multiplied.

At Water Cures, we already know this. This is why we have had such success with helping people end diseases and conditions that were not able to be ended by our health care system.

There are numerous peer reviewed medical journal articles on the benefits of salt and the risks of low salt diets. Below are a few of the many. Please note that it's important to use unprocessed salt. It is not just the salt, it is also the up to 83 trace minerals that provide the incredible healing properties of the Water Cures Protocol.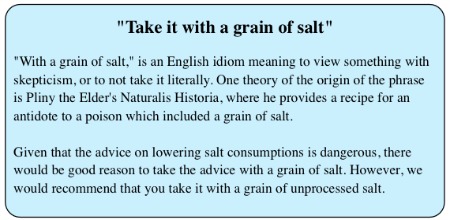 Take it with a grain of salt explained.
The Journal of the American Medical Association JAMA on Salt
Time to End the War on Salt (Scientific America)
Low-Salt Diet May Pose Health Risks
......IOM Study Reviewed in Wall Street Journal 2013.
The JAMA Salt and Heart Risks Study