Your Natural Cures Foundation
Thinking Outside the Glass
The Water Cures is the natural cures foundation of anything we do to have good health. Outside the glass is your resource for help beyond what the water cures protocol requires or what the water cure can do for you.
So many life forms need water in various ways to keep alive or to reproduce. We are not alone in our need for water.
Newt © 2016 Jonathan Steele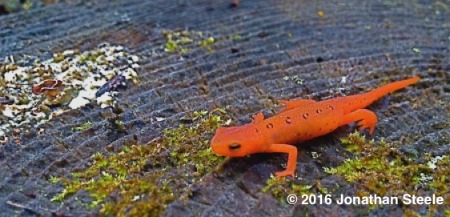 Look at water and beyond for what can help us have the best health.
Water Cures: The Natural Cures Foundation
As you go through the site, you will see our "outside-the-glass thinking." The water cures is not a cure all. If you start the water cures but continue other unhealthy habits, it may not be effective or not work at all. The Water Cures is the foundation for all health. Any other treatments you may use can work better if you use the water cures.
The Water We Drink
There is considerable research on the quality of water we drink. Spring, alkaline, filtered and distilled. Which is right? Which is best? Which works with the water cure? Whatever water you drink, it should be filtered at the least. Even better, water stored in glass and avoiding plastics.
The Food We Eat
In addition to properly hydrating and providing adequate electrolytes to our bodies, we need to also have the proper nutrients. The right kind of food and in the right time is essential.
The Air We Breathe
In addition to the quality of the air we breathe, the amount of air we breathe can affect our health. Why do you suppose yoga has such an incredible following? One of the main components of yoga is deep breathing. When we fully oxygenate our bodies, we unleash additional healing powers.

As a matter of fact, you can lose weight without lifting a finger. Using isometric exercises and deep breathing on a routine schedule, you can lose weight. No heavy lifting, no need to walk or run. Just sitting in place, you can lose weight.

Not Lifting a Finger, Really: A number of experiments looked at the mind-over-matter (as in grey matter) connection. One had a group of people exercise their little finger. Imagine a group of adults doing curls, push-ups and crunches with their little finger. They were the control group. The second group were told to imagine exercising their little finger, but not to actually do the exercises. All of the various related studies had the same results...about a 12-15% increase in strength.....without lifting a finger.

If you add exercise to the deep breathing, you can lose even more.
The Exercise We Get
Not to be overlooked is the exercise we get. We need exercise to have the best health possible. Most of us do not realize that we have two circulatory systems. One is for blood. The other circulatory system is for lymph. The lymph system depends on body movement to function properly.

If you have a job that requires sitting for long periods of time, you even more need exercise.

What is the best exercise you can do? It may surprise you. The best exercise you can do is whatever you will do. I prefer walking. But if I have limitations that prevent me, of what value is it. The important thing, get exercise. At Water Cures, we find outside walking offers the best mix of benefits, but do whatever you will do.