Plastic Drinking Bottles: Poison in Each Sip?
Please Note:
Plastic drinking bottles leaching BPA is a controversial topic.
Plastic Drinking Bottles: Potential for Poison in Each Sip
There are a lot of emotions involved in both sides of this argument. On one side is the plastic drinking bottles industry and thousands of jobs, millions in profit, and the safety of plastic not breaking vs glass which breaks into sharp shards. Lets not forget the risk of plastic manufacturing executives being at risk of becoming second homeless.
Of course, people want the convenience of throwing their plastic bottles around like they were trash. Unfortunately, they do not have the hurl weight of glass.
So, we have chosen to make light of this, just a little along with a serious conclusion as to the best choice of action we should take. The bottom line, we have to come to grips with the question, are there safe plastics for food?
Spoiler Alert, plastic will not kill you, at least right away.

Conflict of Hypocrisy, er eh, Interest Notice
As I was writing this, in a mad dash to check of my drinking bottles, it turns out that many will no longer be in use after writing this. Turns out that most are #1. Look at the label or at the triangle on the bottom. The number indicates the kind of plastic.

The #1 is for polyethylene or polyester. It should be noted that polyester is only suspected of causing cancer and of being a 1970's uncomfortable fashion faux pas. To the fashion, remember, you are innocent until proven guilty. The chemical acetaldehyde was found to immigrate from such plastic bottle into the water they carried. Of course if you are conservative, you may not appreciate any kind of immigration. However, there are two sides to the immigration issue. These poor chemicals have to go somewhere. I have just chosen that they will not go into my gut.

Also, the plastic does not clean well. Recommended: do not re-use bottles, save yourself, not the planet.
So Much Plastic
There are hundreds of opinions on using plastic for food or drink. The vast majority of people do not care. This is why plastic is everywhere.

Some will say that so long as the plastic is cold, it will not hurt you, it will not leach our the plasticizers, the chemicals that can cause such harm to the human organism.
If You Are Sick, Consider This
If you are sick and not finding any solutions, then consider this. If you are trying everything and nothing is working, plastics are probably something you have not tried to eliminate.

Consider ditching plastic. Go plastic free. No plastic bottles for water. No plastic containers. No plastic cook ware. Simply go no plastic in your life.

Especially do not microwave in plastic. Do not put heated foods in plastic.

Why? Forget the opinions. Consider the science.
Reuse Plastic Drinking Bottles If You Want to Get Sick!
Think you can reuse your plastic drinking bottles and put your filtered water in it and save the planet?

Think you can wash it out to keep it clean. What are the chances you will not leave behind some of the chemicals in the soap?

What are the chances you will not leave some of the chemicals in your body that are leaching out of the bottles.

Some may argue, yes, but I am preventing these chemicals from entering the environment. My body is the filter that is saving mankind from the toxic waste.

While this argument is true, once this person becomes the fertilizer that tomorrows flowers is growing over, the toxins are going to be in the earth anyway. There is no net gain. Only a double loss, you life and the planets.
This Fun Guy is Not For You
Using plastic may reduce the plastic use but you will also be cutting short your life expectancy. And not just because of the leaching plastic chemicals in your drinking water. You also are exposing yourself to a number of bugs. If you thought your dear / best friend was a fun guy, your bottle will do you one better. You may be drinking a fungi. Talking about up close and personal, nothing like letting your plastic drinking bottle fungi cuddle with your colon.

Journal of Environmental Science Tells All

Microbial contamination associated with consumption and the growth in plastic bottled beverage.
What About Your Chronic Bronchitis?
Consider what happens when children are fed using plastic bottles.

Clinical Development Immunology: A Kid Story

Feeding bottles usage and the prevalence of childhood allergy and asthma.

Hey, if the plastic drinking bottles are good enough for our kids, they are good enough for us. But, since children are not small versions of us, it does not necessarily mean that we will have chronic diseases like asthma, chronic bronchitis, or related upper respiratory illnesses.

Our adult asthma, chronic bronchitis, cough variant asthma or related upper respiratory illnesses are probably caused by something else, not leeching plasticizers from plastic.

Hey, it is just a theory.
BPA: The Number 7 of Plastics
Environmental Health Perspectives published "Polycarbonate bottle use and urinary bisphenol A concentrations."

The study took some college students and had them drink water from container free of BPA. Then they drank water from plastic bottles. They had an increase in BPA in their pee. If the drink was heated, the BPA increased even more.

Whats a little BPA among friends. The fact that it has been linked to birth defects, growth and development problems, diabetes and increased risk of heart disease is probably viscous rumors spread by the competition. A A number of studies have shown that it does a job on the endocrine system, acting like a disruptor in animals. Do not feed soda in BPH lined cans or in baby bottles to your pets, at least if you want to ever breed them.

Wait, did that say soda cans? Yep, why spend the money on having your animal neutered when you can fix them with a can of soda.

While you throw out and stop using plastic drinking bottles, there are a few other things you should know and throw.

Polycarbonate refillable bottles


Baby bottles


Dentistry composites and sealants (Ok, hard to throw out. Besides, which is worse, BPH or Mercury?)


Aluminum food and beverage can linings
Single Study Syndrome
Some na-sayers, those who say the BPA is safe, will claim there is a lack of evidence. They will claim that those who say BPA is bad fail to look at the evidence. Or if they do, they look at a single study. One of the main claims is that there is not much in the blood.

We did a quick search on the topic of blood levels of BPA and found that they were right. There is only one single place to get 280 studies that looks at the blood levels of BPA. That is 280 different ways and times on PubMed, the National Institute of Health resource.

Biomed Chromatogr. 2009 Nov;23(11):1186-90.

Measurement of bisphenol A and bisphenol B levels in human blood sera from healthy and endometriotic women.

This basically says there's a link with endometriosis. Sorry, it is is a single study out of a few hundred.
The Most Basic Logic Against Plastic
Decades ago, man did not have the health problems we have. Man also did not have plastic. Why would you want to put chemicals in our body, even if our bodies safely remove them.

And whats the current score of scientist who were on the take?

PLoS One. 2009 May 29;4(5):e5738. had this posting..."How many scientists fabricate and falsify research? A systematic review and meta-analysis of survey data."

Between 33-79% of respondents had known of one form or another of cooking the numbers. Remember, this statistic could be off by 33 to 79%. Likewise, those for and against BPA could have cooked the numbers. After all, the anti plastic lobby is huge and they probably have hundreds of thousands of words they are throwing around to influence people because of the incredible profit to themselves of improving the health of their neighbors, people like you. Oh wait, there is no profit in trying to give free advice.

Considering that the plastics industry has funded a number of studies and was unable to reproduce the negative effects others have found with plastics, we can only assume one thing. That BPA is safe for plastics profits so long as it is used, regardless of whether it is safe for humans consumption or not.

Oh yea, what happens when you use harsh chemicals to clean it? Spoiler alert. the animals reproduced defective offspring.

Harsh Chemical Detergents, Plastics and Reproduction.

Most plastics are safe for our dishwashers.

This leaves us with only one conclusion. We do not feel there is any plastic safe for food. We especially feel there are no safe plastic drinking bottles.

There is a statistical probability that some of the research is correct that both it does not and it does harm us. This leads us to the logical conclusion.

Do lions, tigers and bears, oh my, ever have the health problems like we do? Once you consider the answer, the obvious becomes clear. The closer we can get to living naturally, the safer we will be or, do not feed your lions, tigers and bears from plastic bottles unless you want them to experience a statistical chance that could be up to 79% right or wrong of having human diseases.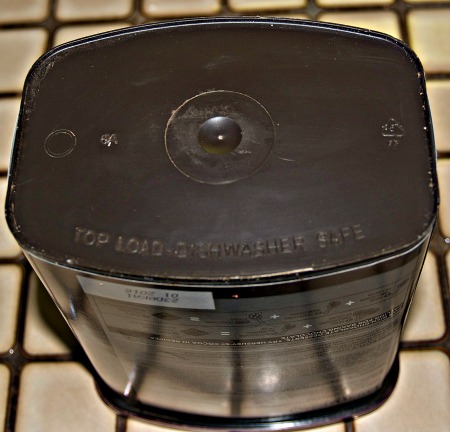 ---
---
While the plastic stabilizers used in this polypropylene chocolate container are biologically active and potentially can affect our sweet tooth nerve transmissions (they tend to leech from the plastic), we can be assured of one thing...and you already know what it is.
The Water Cures Protocol: Using Glass to Drink From, Of Course