Affirmation For Health and Why You Must Use Them
Creating an affirmation for health can help you improve your health and your life at a subconscious level. They may provide an edge beyond what the Water Cures Protocol, diet and healthy habits may bring about. There is a scientific reason for this. Affirmations can help you to find and fulfill needs beyond the obvious. The mind provides an incredible energy toward helping us on our path in life.....if we choose to use it.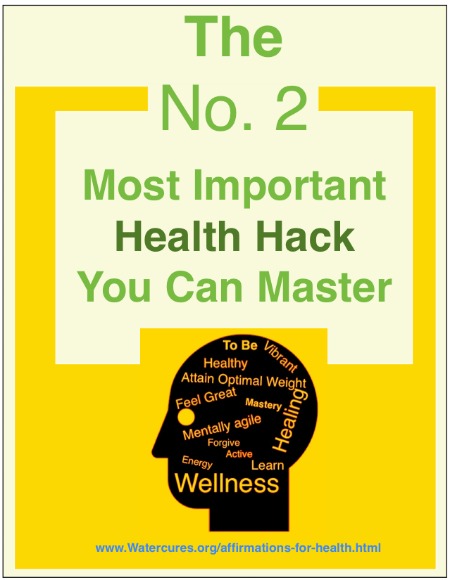 We believe the best way to make an affirmation for health is to create your own. You can find numerous affirmations created by someone else on the web. However to be authentic to ones self, to be true and to create our own best possible life, the affirmation needs to come from within.
How To Make Your Own Affirmation For Health
To start, define to yourself what you want. What is your best health? Do you want lose weight? Do you want to heal or end a particular health issue? Do you want to eliminate a chronic diseases? Are you fighting cancer? Once you define what you want, you will have the foundation for building your affirmation for health.
To start the building process, write down what you want. Look at the various things you have listed. Out of those wants, which do you need? Which are so urgent to fulfill, they go beyond wants, the are needs.
For instance, you may want to lose weight because it is just a goal you want to attain. Or, you may look at your family and think, "I need to attain a healthy weight so I can be here to take care of my family." In so saying, you have taken it from a want to a need.
When the things we want attain the level of 'need', our subconscious brains can make a way to attain them.
Next, make the statement or statements positive. When we say, 'lose weight' we have a negative statement. Our brains work best when trying to fulfill a need, solve a problem or get a job done. As an example, consider the Tetris Effect. If we play certain games long enough, our brains will start to incorporate the virtual into the reality of what we see visually. We may even start to dream the solutions. Note, we don't dream how the pieced cannot go together, we dream how they can go together. It is what our brains do.
When we make our affirmations for healing something positive, attain my ideal weight and pick a number that is realistic, the brain will have an easier time to fulfill the desire. We may start to notice a shift in our food preferences. We may notice that we stop drinking soda (diet or regular) or we start to crave more healthy foods. This is the affirmation working.
Why Be Specific: When we were young, our parents told us to behave. Yet what did that mean? Behave at friends houses means something different than behave at the beech or at the play ground. At some point, perhaps you learned. Unfortunately, I did not know what it meant as the meaning changed and as a result, I constantly got in trouble. We need to have a crystal clear and focused need to fulfill or job to be done to get the optimal benefit from our affirmation for health.
Additionally, we may notice something else start to happen as the result of creating an affirmation for health. We will become more in-tune to our health. At Water Cures, we believe in a simple philosophy that you have to get healthy to lose weight. The reason is now becoming more scientifically sound.
It is known that Babesia infection, a Lyme co-infection, causes incredible weight gain. Making matters worse, the weight is nearly impossible to get off. That is, until the Babesia infection is cleared up. Even worse, if you have had it for a long time, antibiotics may not work at all, or if they do, it may take 6 months of treatment to see any benefit.
Natural cures are about the same. It will take a minimum of 6 months to see a minimal benefit. It could take up to a year to lose enough weight to reach your goal. The affirmations are the key to success. By programing your brain, repeating over and over, I chose to attain my ideal weight of ____ lbs, when faced with stress, health issues or other problems we will not give up. Like the Tetris Effect, our brain looks for ways to solve the problem, ways to fix or get the job done.
One simple example of how this may work is the use of the Water Cures Protocol. When we feel the need to eat, our brain may be programmed to instead say, "You're thirsty, you're not hungry." Then you reach for a glass of water, take a pinch of salt on your tongue and you feel satisfied once again.
The same is true with any health condition. While we have seen people do incredible things with the Water Cures Protocol, such as ending cancer, putting MS in remission and more, to see the benefits requires sticking with the protocol. To keep doing it and to make it a life change, some people need more. They need the healing affirmations to be able to make it a life habit change.
What do you want? More importantly, what do you absolutely need? Do you have a job to be done or a life to live to the full? We tend to do what we need to do. Unless what you want rises to the level of need, you will have a harder time filling that need.
If nothing else has worked, then what do you have to lose. This costs nothing more than some mental time and energy. So, do it, do it now. Start creating your healing affirmations.
Why You Need to Use Them
Wouldn't you want every advantage when trying to solve a health problem. What if you have good health? How about maintain it. Either way, health or healing affirmations give you this advantage.
We live in a time of unparalleled toxicity exposure. Our healthcare system, ranked the most expensive and in the 70 percentile worst systems in the world, it now the third leading cause of death in the US. If you want your best health, you have to let go of "Doctor Knows Best." It is essential to be an educated consumer when it comes to health care.
Also, it is not possible to simply trust Dr. Google. Both doctors and natural healers offer bad advice and sometimes biased advice. If they profit from what they promote, there is a bias.
Additionally, not every treatment will work for everyone.
The bottom line....you need to listen to your body and be attuned to what it is saying to you. The best way to do this is make an affirmation for health and to work toward your best health. Let your subconscious open your mind to ways and means to improve the quality of your health and life. If you don't, nobody else is going to. Start today before it is too late.
More on the Brain and Mental Health
The Scientific Healing Affirmations
Share Your Water Cures Story Scroll to the bottom of that page to comment.